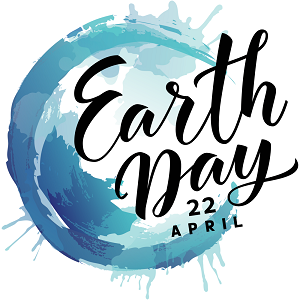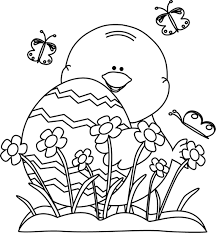 ARE WE FINALLY BACK TO NORMAL??
Dear Fellow Residents,
We on the Board of Directors hope you had a pleasant and safe winter and, with fingers crossed, we are hoping to once again enjoy a normal Summer at Clearwater Beach.
We have resumed our monthly meetings and are preparing the Reservation for a busy season.
So let's start with the best news: the Annual Summer Picnic is back  –  Saturday, July 9th, at 4:00 pm!
Barring changed health conditions and regulations, of course, we plan to resume most of the COVID-cancelled events and to continue many of the newer events and facilities:
Among the facilities, events and activities this year are:
Secretary Gary Grille and Director Jon Tarbet handle the requests for private party reservations of the green-space/picnic area, pursuant to our rules and application form.
The children's playground.
The pro bocce court (with night lights).
Bocce leagues for men, women and couples, to be organized by volunteer Roey Ficaro.
The picnic area and child-size picnic tables (with night lights).
The (now-expanded) Wi-Fi network, for the use of members only.
The Marina opens April 15th for 120 boat slips and 156 paddle-craft racks, and with 24 new pilings to replace the old ones.
One portable toilet will be installed at the marina April 15 and two at the beach entrances by May 15.
Our weekend security, trash pick-up and lawn care services are signed up and ready to go.
Debris on beach to be cleaned by the end of March.
Beach benches and picnic tables to be returned in late April.
Swim raft and ropes to be installed mid-June.
New steps to the east beach.
Five new whisky barrel planters are replacing the old ones.
Commemorative plaques on benches and tables to be available for purchase by members.
Sand grading on the west beach in mid-June.
Our wonderful handyman, Paul Trela, has been trouble-shooting all Winter and is ready for this coming season.
Roey Ficaro's sunset yoga-on-the-beach sessions.
Roey's women's boating club.
Story-telling sessions by volunteer Steve Sobel.
Nature education organized by volunteer Judy Freeman: April 10- Birds and Beach walk; June 26- preparing for pollinators; August 7- Seining.
Full use of the basketball court.
A replacement picket fence behind the basketball court.
Full use of the fishing channel.
Lifeguard squad: this year we are fortunate that our director Jon Tarbet, who is also the longtime lifeguard director for the Town's junior lifeguards, has volunteered his expertise and time to manage our lifeguard squad.
Lifeguarding will resume June 25 and on the west beach only.
Jon is accepting lifeguard applications. Clearwater residents are always favored.
The children's fishing contest t/b/a.
The children's S'mores night t/b/a.
The always-popular evening sunset watching.
Our website is up and running, thanks to volunteer Scott Sassoon.
Roey Ficaro will manage our new Facebook page: thanks again to our wonderful volunteer.
And others that may arise.
Please remember that any community announcements will be sent out via Mailchimp so keep a lookout on your email for Mailchimp messages from CBPOA. Members of the community are encouraged to provide suggestions, which will be reviewed and discussed at each Board meeting.
Our CBPOA board is comprised of volunteer directors and advisers who give of their time and best judgment to keep our neighborhood and beach/marina reservation in the inviting condition that it's in. We meet at 4:30 p.m. on the first Monday of each month, except in January and February, currently via ZOOM, open to all members, and we are open to new ideas for the Clearwater community.
We thank all of our directors and volunteer advisers for their generous contributions of time, energy and expertise.
Longtime Director Stuart "Skip" Close resigned. We thank him for his many years of dedicated service. Fortunately, Stuart has agreed to stay on as an Adviser. We welcome his expertise and judgment.
It is always important that we work together as a community. The Golden Rule is still the best guide to living among others. Please take care while driving in the Reservation and in the overall Clearwater community
We wish you a happy and healthy 2022 season at Clearwater Beach. Best wishes!
Dan Aharoni,
President, CBPOA
From the Desk of the Executive Secretary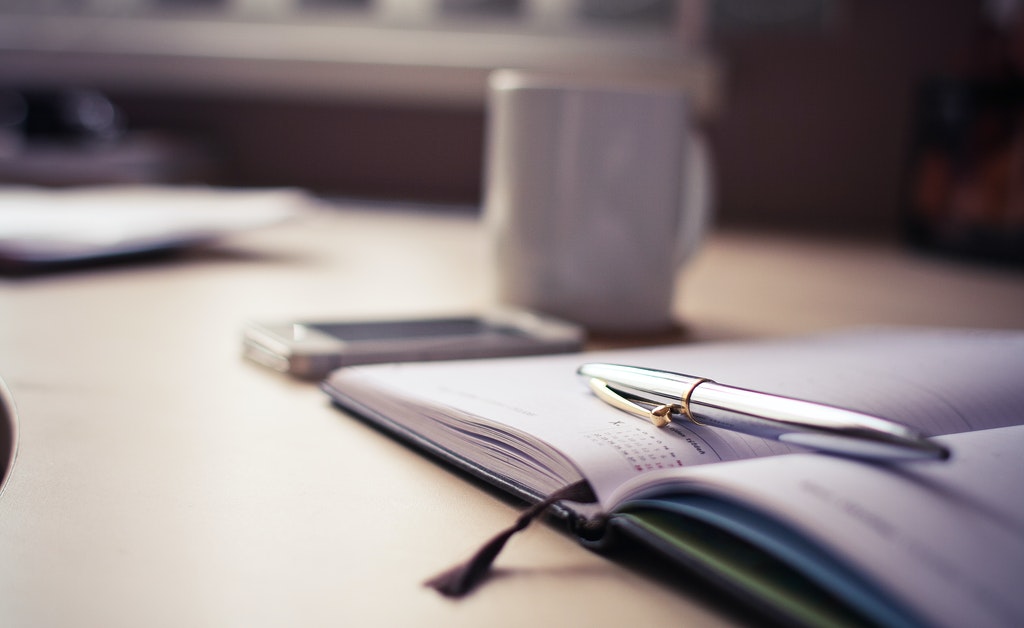 Greetings, and welcome to springtime in Clearwater Beach. I hope you had a healthy and enjoyable winter. All of us are looking forward to the warmer weather and outdoor recreation. With that in mind, you may find the following to be informative and useful.
—Maintenace Fees —We have more than 860 members of CBPOA, but approximately only 670 members have paid up to this point. If you have not already paid your maintenance fees, please do so at your earliest convenience. Your annual dues are vital to maintaining the entire reservation area: walkways, beach, marina and picnic/field areas, etc. Please separate the bottom portion from your invoice and refrain from using staples or paper clips. Also, keep in mind that failure to pay the yearly dues for more than two years in a row will result in having a lien placed on your property. A lien attached to your property will appear in a title search and prevent the transfer of ownership until all past maintenance dues, legal fees and interest are paid. A lien may also adversely affect your credit rating.
—Gate Cards — All previously issued gate cards are active and will remain so as long as your maintenance fee is paid by May 1, 2022. If your fee is unpaid after that date, your cards will be deactivated. This process could potentially be very time-consuming depending on the number of deactivations, so please do not wait to pay until after May 1 and expect an instant reactivation of your cards.
—New Security Camera System And Improved WiFi –– Both were installed in February 2021 and are fully operational. The new WiFi is password-protected, but it is an unsecured network, so be careful as to what business you conduct when using it. The password is membersonly. The security video camera system can be accessed by certain members of the Board, so if you have a problem, please contact one of us, and we will do our best to help.
—Website — The CBPOA website has been updated and may be accessed using the new website URL:  www.clearwaterbeachpoa.org. The website contains all the boating and kayak applications, information and instructions, as well as the updated Corporate By-Laws and the Association's Covenants & Restrictions.
—Would You Like To Join The Board? — According to Article V, Section 2 of the CBPOA by-laws, all candidates must be in good standing with membership fees being current and submit to the Board, in writing, his/her intention to run for election by May 15 of the year running. We currently have ten Directors on the Board and may have a maximum of twelve. The election for Directors is held by proxy ballot and at the annual meeting in July, where votes are tabulated. We typically have meetings every month from March to November at the workshop, which is the building on the right after you pass through the gate at the Reservation, although in the past couple of years, meetings have been on Zoom due to COVID-19. I send out an email notification to all members for whom I have email addresses about a week ahead of meetings, which are generally on the first or second Monday of the month, depending on the Directors' schedules.
If you have any questions or concerns, please feel free to contact me any day from 10 am to 6 pm, and I will do my best to help you or connect you with someone who can.
Wishing you all a safe and enjoyable spring and summer.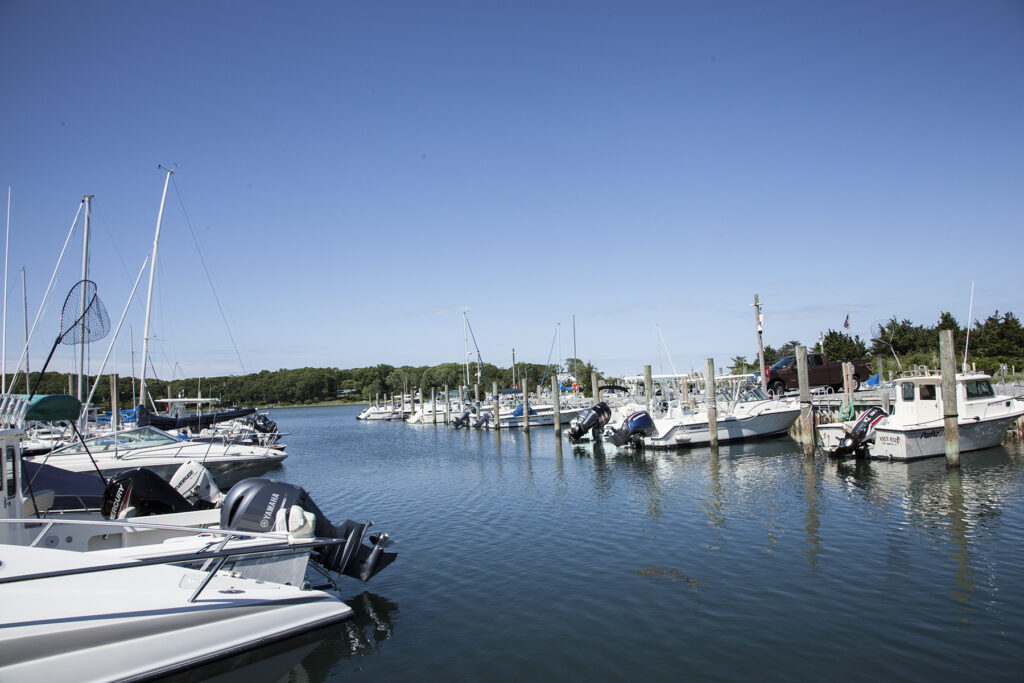 This year the Marina will be opened by April 15. We dredged the inlet this year in December as our permits required. Our maintenance man Paul Trela resurfaced the floating dock and is also going to replace the old water lines on the floating dock. Thanks, Paul. The ice eaters to protect the pilings from lifting due to freezing water worked great again this year, and I want to thank Chris Scola for his tireless efforts in maintaining and installing them for us. Again, great job!!
 As of March 5, 2022, we have limited slips available on both the bulkhead and floating dock. We had a number of new members apply and receive dock slips which means we had to turn down some sponsors. We went by seniority and location to try to make it as fair as possible. A few applicants requested a slip change from last year, and their request will be honored if possible. No reservations are considered until all required paperwork is received. Due to our priority assignment system, applicants with missing data were notified of their missing data and received a lower priority because of the late completion of their application. 
Again, an E-mail address request was made this year to boat applicants with the intent to communicate pertinent information about the marina operation. Once again, this year members/sponsors can complete their applications on a computer. More applicants are taking advantage of filling out the form on the computer. I would like to thank those for doing so. It is a lot easier to read the computer's completed form than trying to read the written data. This past boating season, it has been observed by several boaters that a few slips had been unoccupied. If you do not plan to utilize the slip, let some other boaters request the slip. CBPOA will provide a refund on a prorated basis providing the slip is rented to someone else. The board has voted that non-utilized rented slips will be available to someone else next season. 
This season, CBPOA again invoked the insurance requirements for boaters who desired a slip at our Marina. Marine liability insurance coverage for each boat at the Marina is required. We require a Certificate of Insurance (COI) indicating this coverage. An indication of Clearwater Beach Property Owners Association as an interested party must be included in the COI. In addition, boats that have permanently installed fuel tanks must have spillage coverage designated in the COI. The COI is a one-page "ACCORD" document outlining the insurance coverage including spillage if required, and CBPOA as interested party. Your insurance agent should be familiar with this document. Remember, a copy of the boat registration is also required before a slip assignment will be provided. Several applicants provided a valid registration that will expire when the Marina is opened. We require that a copy of an updated registration be provided before receiving a slip assignment. Most boaters had no problem meeting the CBPOA requirements and honored our request to only send the COI form instead of their entire boat or home owner's policy. 
Our policy of notifying boat owners if their boat is in danger of sinking or loose dock lines will be in place. If the boat owner does not respond, we will contact a marine service to pump out the boat and or retie your boat at a cost to the boat owner. CBPOA will pay the marine service for the pump out, and to re-tie your boat and in turn will bill the boater. Failure to pay this bill will result in a denial of a slip in the future. The pump out fee will be set by the marine service. To avoid any pump-out cost, boat owners should periodically check the floating condition of their boat, particularly after a rainstorm.
 All dock lines should be secure so that your boat does not bang on the pilings and ladder. All spring lines should be adjusted so your boat doesn't get hung up on the dock or ladder which we had happen again last year. You must check at both high and low tides. If you are called to adjust your lines please do so. It means we looked at what was going on, and it has to be addressed. 
Do not ignore the call as it happened last year. If the problem is not fixed, or the call is ignored, you will be charged if we have to call someone to re-tie your boat and if any damage is done to the dock, ladder or pilings. Any fines imposed by the DEC in the case of a sinking boat will be the responsibility of the boat owner so PLEASE check your boat periodically.
REMEMBER ALL BOATS/ KAYAKS SUP'S CANOES MUST BE REMOVED BY NOVEMBER 15, 2022
Rack applications may also be filled out and downloaded on the computer. As of 03/05/2022, we have 45 rack spaces available. Mostly the top is left because we repaired and extended the rack. We added 24 more racks this off-season. Kayak/canoe identification will be the same this year as last year. Renters will receive two assignment stickers to be placed on their vessels front and back. Please place the stickers where one will be seen while the vessel is in the rack.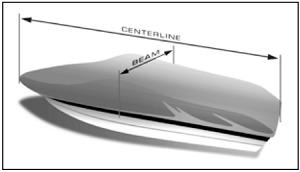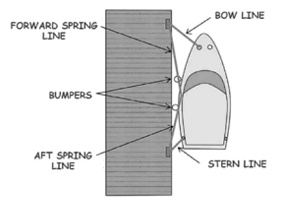 Vessels with no sticker will be removed from the rack. Please secure your kayak and or sup at the rack, so we don't have anybody using someone's that does not belong to them. It is important to indicate the beam of the kayak/canoe on the application, so an appropriate rack assignment can be made. It is suggested that kayak/canoe users get "Paddle Smart" and take a safe boating course in handling a canoe or kayak.
Last season boaters were observed in the swim zone at CBPOA. This is a violation of New York State Boating Law, and persons can be fined if caught. No boats, kayaks, paddleboards or rafts are permitted in the defined swim zone. Also, we had a few instances of people swimming and boarding their kayaks near the boats in the Marina. THIS IS NOT SAFE, AND IT IS AGAINST THE RULES, SO PLEASE USE COMMON SENSE. 
If you have experienced problems with the Reservation, please inform our secretary, Mr. Gary Grille, the Assistant Dock Master or myself. This should be done within a few days. We ask that all boaters review the Marina Rules and Regulations, which they will receive with the slip assignment. For those who are unaware of our CBPOA website, boat slip and rack applications can be filled out and downloaded in mid-December of the prior year. 
 You must make sure to download the application and the emergency data form and have a current copy of your vessel's registration. You can access the CBPOA website by logging on to www.cbpoa.net. The marina rules and requirements for boaters are also posted along with other pertinent marina information. Again, please note that securing last year's boat slip, the deadline for filing an application is February 15.
SAFETY ALERT:
BRIANNA'S LAW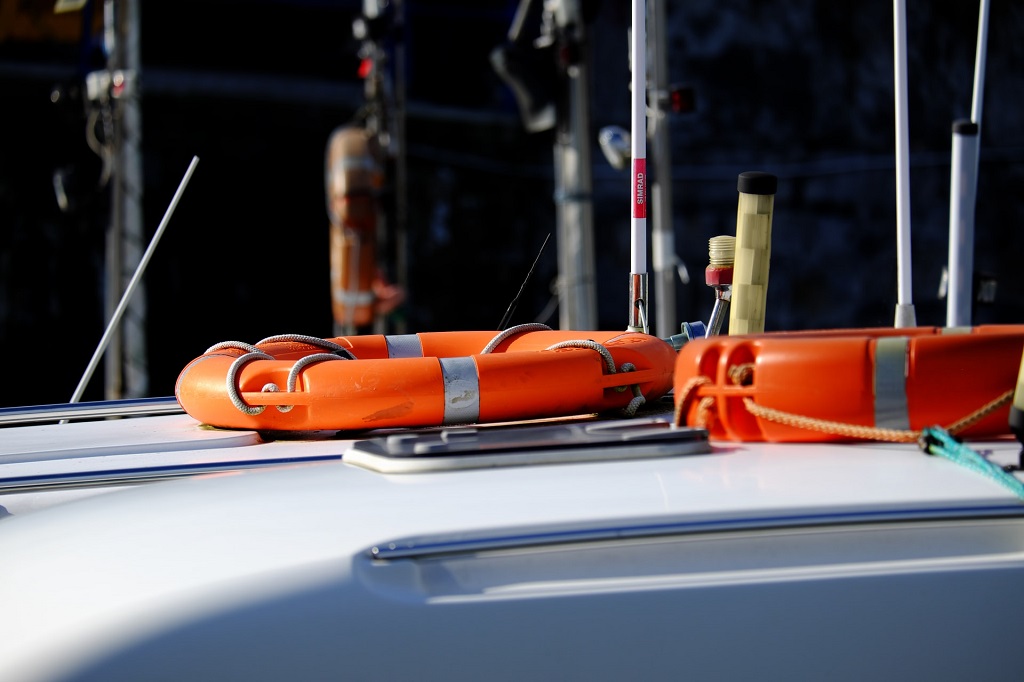 All operators of motorized watercraft in new york state, inclusive of all tidewaters bordering on or lying within the boundaries of nassau and suffolk counties, must complete a state-approved boating safety course.
Phase-in Schedule
If you were born on or after 01/01/1993, you must complete a course by 01/01/2020
If you were born on or after 01/01/1988, you must complete a course by 01/01/2022
If you were born on or after 01/01/1983, you must complete a course by 01/01/2023
If you were born on or after 01/01/1978, you must complete a course by 01/01/2024
All operators of motorized watercraft must complete a course by 01/01/2025 regardless of age.
New York law requires that all children under 12 years of age wear a USCG–approved Type I, II, or III PFD while onboard any vessel less than 65 feet in length (including canoes, kayaks, and rowboats) unless they are in a fully enclosed cabin
FOR SUP'S WHICH ARE CONSIDERED VESSELS BY THE USCG
PFD (Personal Floatation Device)
Sound Producing Device
Navigation Light – if on the water after sunset
Visual Distress Signal (VDS) – subject to SUP length and time of day*
To all boaters, remember steady and slow wins the race. If you are new to boating or not and are having trouble docking going SLOW in and out is much safer than revving your engine and slamming from forward to reverse to correct yourself. All that does is make for a potential injury to someone who is trying to help by putting a hand out to push off a piling or another boat or vessel damage. Another thing is we all have to remember we have a lot of open water on the bay with plenty of depth. 
So if you see a boater fishing or skiing or just hanging out, try to do the safer thing and not go by within an arm's length because anything can happen, and it's better to be safe than sorry. To the boaters on the floating dock, we sent out a separate letter in your assignment in regards to how we want you to tie your boat up. No anchors or anchor pulpits to impede the walkway. Please read carefully, and if there is any question, please call me, and I will explain.
Have a safe season, Ken Neary Dockmaster
COOKING LONG ISLAND'S BOUNTY
Looking around Clearwater Beach, it's pretty obvious that we are not a bunch of twenty-year-olds living in our beautiful community. As we age, we are aware of how important our diet contributes to our general health and well-being. The recipes that follow are designed to augment those goals.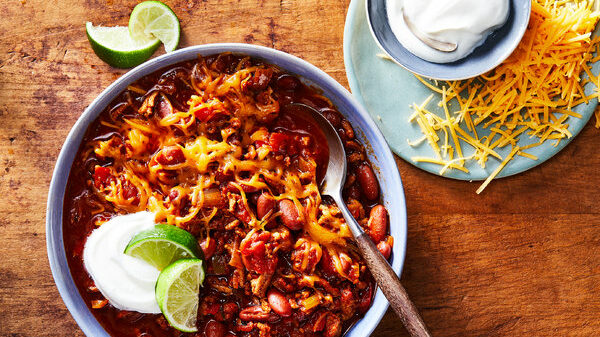 1 red bell pepper chopped
2 small or one large onion chopped
4 cloves of garlic minced
1 lb. of organic low sodium kidney beans
1 package of frozen sweet corn defrosted
2 15 oz. cans of diced tomatoes
1-cup of defrosted corn kernels and broth to cook meat
Spices
2 teaspoons dried oregano
2 teaspoons cumin
1-teaspoon ground cinnamon
¼ teaspoon cayenne pepper
½ teaspoon turmeric
2 teaspoons paprika
Salt and Pepper to taste
(Adjust spices while cooking)
Olive oil to cover the bottom of the pot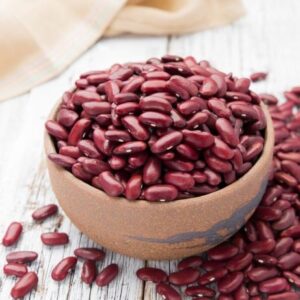 Add garlic (minced), onions, and chopped red bell pepper. Cook until soft, stirring frequently.
Add ground turkey, breaking the turkey in the pot. When turkey is no longer pink, add spices.
Rinse beans well and add to turkey and then add the corn and broth. Stir well, bringing to a quick boil. Reduce heat to medium-low. This can cook for a while. Adjusting spices to taste.
Top dish with shredded cheese, freshly squeezed lime juice, sour cream and fresh cilantro.
Green Beans & Onions
1 1b. of green beans, washed and stems removed
2 or 3 shallots, cleaned and chopped into small pieces
Olive oil to cover the bottom of the pan
Broth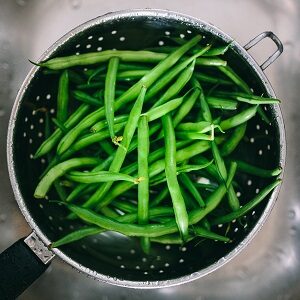 Cover the bottom of the cooking pan with olive oil. Wash fresh green beans removing any stems. Break beans into two-inch pieces. Cook shallots and garlic in olive oil. Add green beans when shallots are softened. Add broth and stir frequently. Cover pot and shut off heat; allow beans to steam, adding broth as needed. Salt and pepper to taste. Serve as a side dish with turkey chili.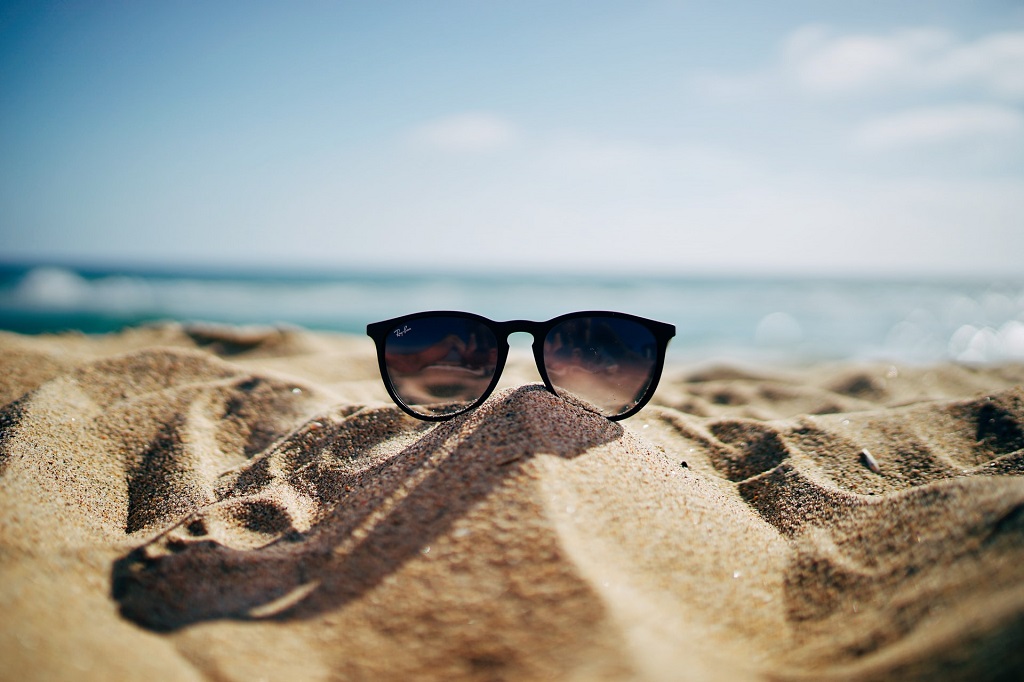 While winter is a quiet and peaceful time on the Reservation, we look forward to the busy summer season ahead. Below are a few updates on ongoing activities as the Reservation prepares for summer, along with a preview of summer events. 
Reservation Updates:
Picnic table lights will be on timers, and electrical outlets will be installed at all the picnic tables.  Now your cell phone can be charged, and we are 'Go Green' with the timers preventing the picnic table lights from being on 24 hours. LED lights will also be installed by the Bocce court in anticipation of Bocce games after sunset.  
The playground is just a year old and is being prepped for lots of action.
Kayak racks have been replaced and expanded and are waiting to be filled with a rainbow of kayaks and paddleboards.
Brush is being removed, and the landscaping is being cleaned up in preparation for summer flowers.
New gravel and new flags are being installed for some additional summer touch-ups.
The lifeguard stands are ready and waiting for June, and we look forward to bringing out the floating dock and to hearing the sounds of splashing and laughter.
And please mark your calendars for the following activities on the Reservation this summer. If you have ideas for other activities or want to get involved with planning, you may contact Roey Ficaro, the CBPOA Board Activity Adviser. Roey can be reached at roeyficaro@gmail.com.
Annual Summer Barbeque
We had to cancel this special event the past two years, but we hope to host it this summer on Saturday, July 9. Save the date!
Nature Walks & Talks with the South Fork Natural History Museum & Nature Center (SoFo)
We have had some wonderful educational nature events with SoFo over the past years. This summer's events include:
April 10 – Birds and Beach walk
June 26, 10 am-Noon – Preparing for Pollinators
August 7, 10 am-Noon – Seining
Yoga
Roey Ficaro will resume the magical sunset yoga sessions on Tuesday evenings beginning May 31 as well as morning yoga sessions on Fridays at 10 am beginning June 3.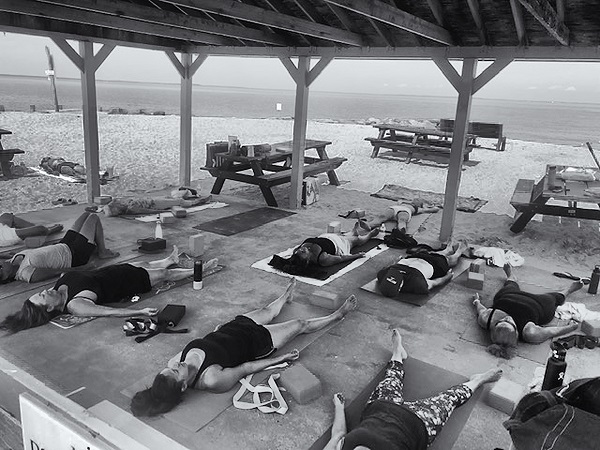 Women on Water (WoW)
Roey will also be organizing The WoW group again this year and will have a kick-off meeting in May.  Anyone interested in joining can contact Roey at roeyficaro@gmail.com.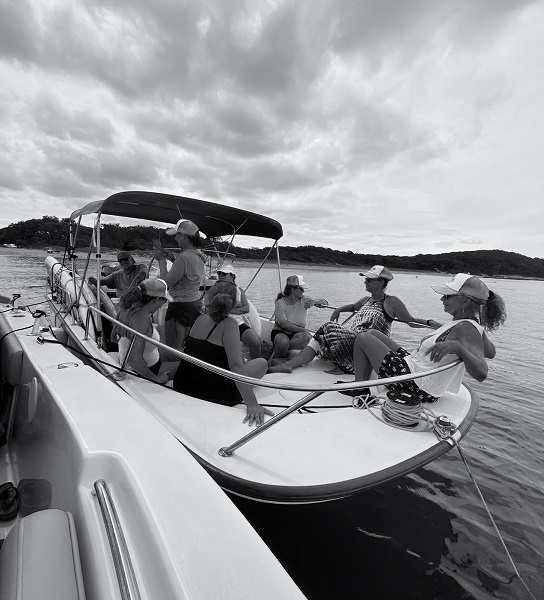 Bocce League
If you are ready to show off your bocce skills this summer and would like to participate in a bocce league, please contact Roey at roeyficaro@gmail.com. If there is enough interest, we will get a league going!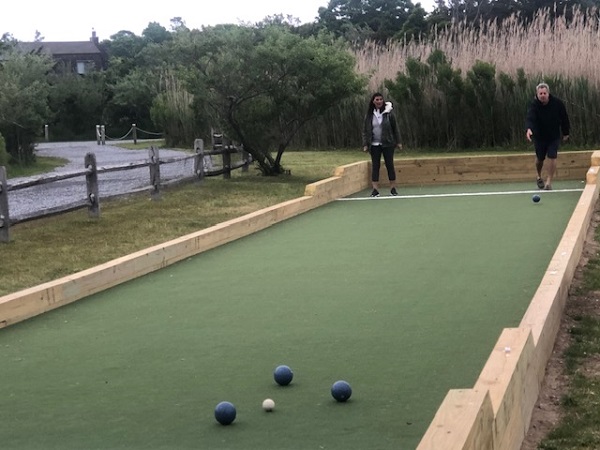 Story Salon East at Clearwater
Steve Sobel moderated this storytelling event for three years, first at the East Hampton Library and then at Ashawagh Hall. In our little corner of the world, we have some fabulous storytellers! With a seven-minute limit, people tell a story. Seven people "telling" for seven minutes, and you've got an hour of midweek fun—dates and time to follow soon. Anyone interested in participating can contact Steve at N327WT@optimum.net.
S'mores Night and Children's Fishing Contest
More details to be shared!
As the days get longer and the setting sun moves closer to Shelter Island, you can almost feel the warm salty air on those long summer days and nights. We are lucky to share such a special place and community. See you on the Reservation this summer!
EARTH DAY – Friday, April 22, 2022
Ever wondered how Earth Day started? This observance arose from an interest in gathering national support for environmental issues. In 1970, San Francisco activist John McConnell and Wisconsin Senator Gaylord Nelson separately asked Americans to join in a grassroots demonstration. McConnell chose the spring equinox (March 21, 1970) and Nelson chose April 22. 
Millions of people participated, and today Earth Day continues to be widely celebrated with events on both dates. The most common practice of celebration is to plant new trees for Earth Day. Earth Day is a great time to take a leisurely walk with family and friends around the CBPOA reservation and encourage our member families to walk and clean our streets and surrounding areas throughout Clearwater.
CIDER AND DONUTS & NATURE EVENTS
We are fortunate to have some of the best environmentalists from the South Fork Natural History Museum and Nature Center (SOFO) come to Clearwater Beach Reservation this summer. Their observations and talks are not to be missed –
 .  .  .  SO MARK THESE DATES IN YOUR CALENDAR!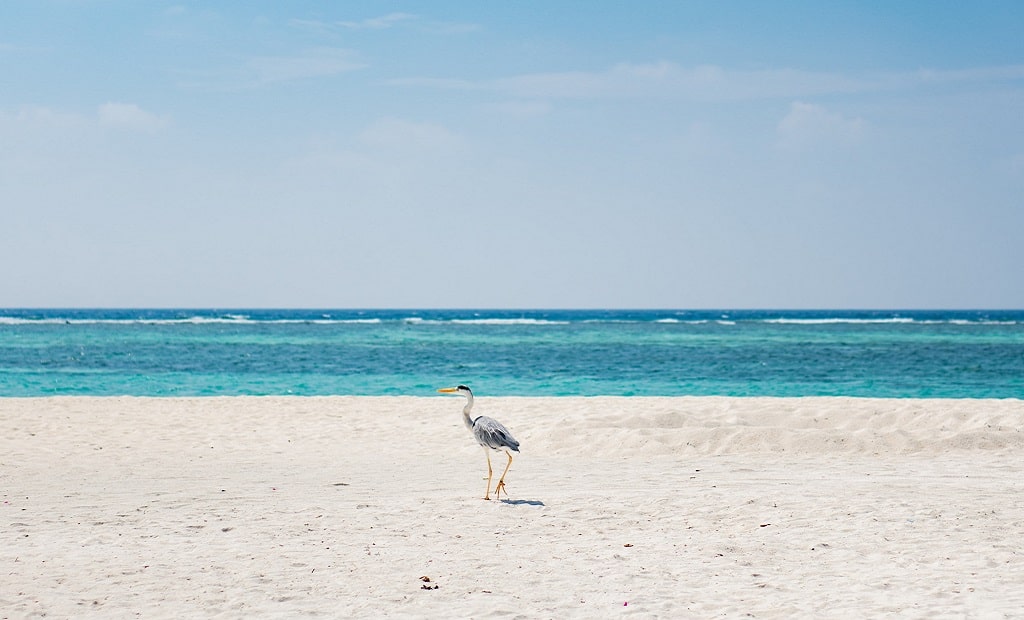 April 10, 10:00 am. Birds and Beach Walk
Environmental educators from SOFO will lead a walk down our sandy beach to identify and give some history of the beach plants thriving in sand and stones along our water's edge. During this walk, we will also be looking at birds whose habitat is the bay and the land abutting the bay. You might want to bring your binoculars.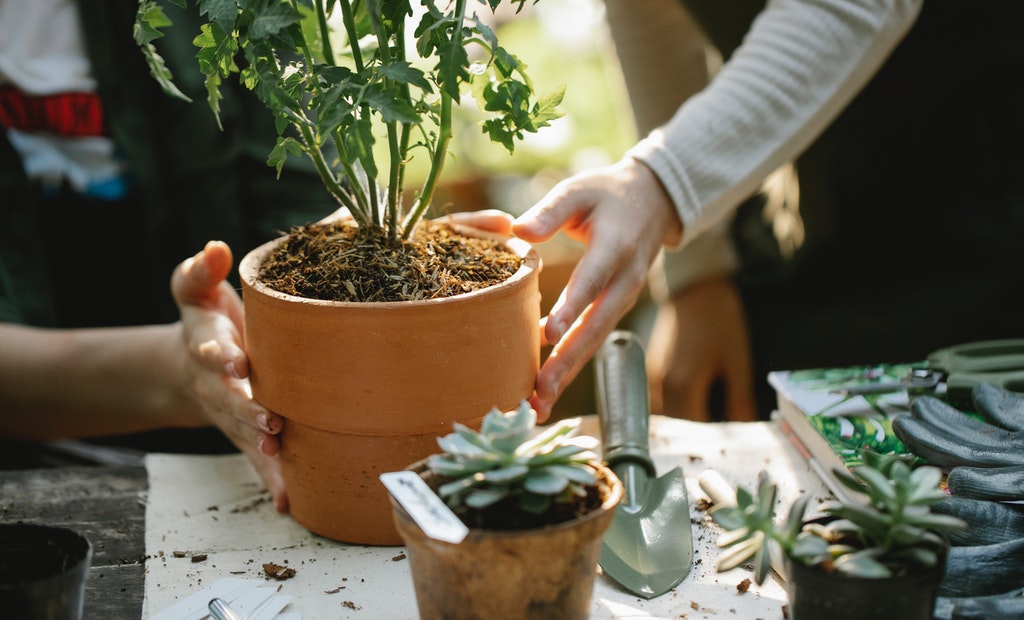 June 26, 10:00 am. Preparing for Pollinators: Bees, Butterflies and Birds 
We're always delighted to see these flying creatures. This talk will include tips on the plants that sustain them and also look beautiful in our gardens. We will learn and get some tips about chemical-free plant care – good for bugs, plants and us gardeners. A list has been prepared of plants that you can buy locally. I will try to bring a few of these with me to be purchased after the event.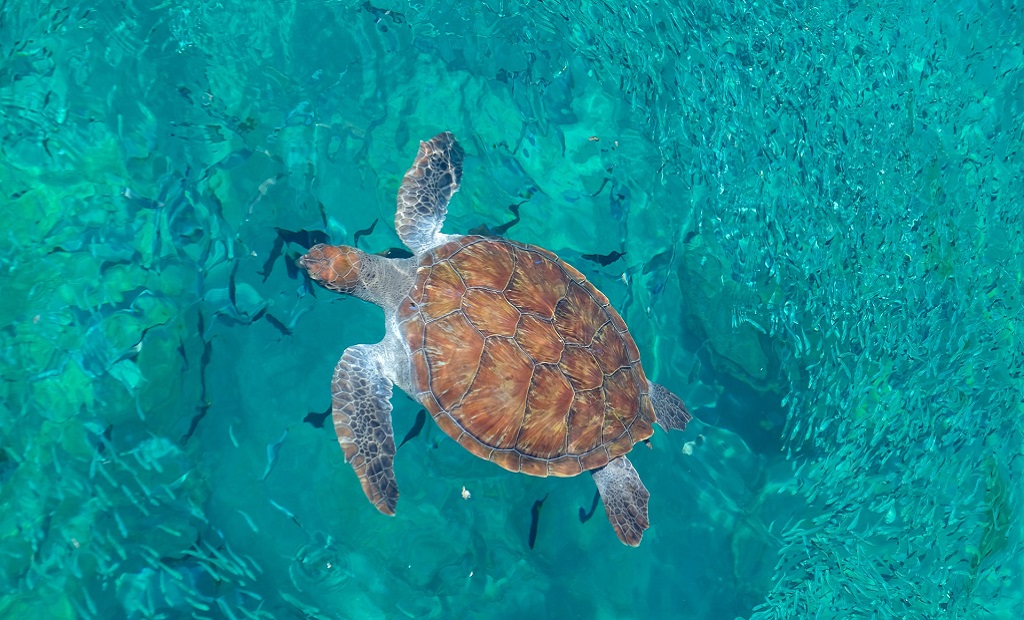 August 7, 10:00 am. Seining 
We'll examine the marine life –plants and tiny animals/fish – swarming in our bay waters. You will be given nets to scoop out samples that will be dropped into buckets for further examination and identification. Some of you will be wading in the water, so bathing suits and water shoes are recommended. This program is a delight for all ages.
All the above programs will start promptly at 10 am and are two hours long. We will meet at the sun shed. All are welcome to come 15 minutes early for coffee and donuts.
LOOKING BACK :
The weekend after Thanksgiving 2021 was "HOT Cider and Donuts" at Clearwater Beach!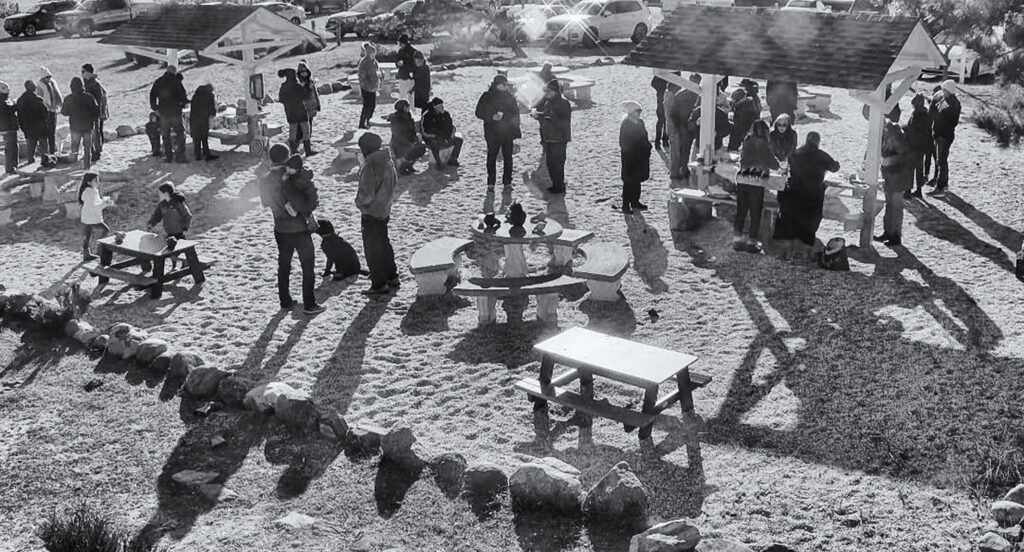 It was a blistery cold day, and our residents were a hardy bunch as they gathered around pots of hot mulled cider and piles of apples, all purchased at the Milk Pail. Christy, of Springs General Store fame, made the donuts that morning – thank you, Christy! They were put on trays wrapped in colorful napkins and quickly consumed. The long-awaited Mallomars (yes, Mallomars are seasonal) finally appeared on store shelves that week and were piled high on platters. 
Our homeowners were there to help. Susan – "Main Beach Concessions" – Seacamp lent us her fabulous "oldies" tapes and speakers. Gerry Giliberti and Paula Miano got the music going. Stuart Selip, his friend Kenny and Steven Sobel elegantly served the hot spiced cider – spiked upon request. Roey was at the Bocce court, enticing newcomers to the game. (Will there be Bocce leagues this summer?)  Did I miss anyone? I was kept busy making sure the cider stayed HOT, and food platters were full. And, of course, it wouldn't have been a party without 70 plus of our residents in attendance. 
Some members suggested another such gathering next Fall. Waffles with blueberry sauce? Let's stay in touch.  
And beyond Clearwater Beach to our greater Springs community:
At the past several meetings of the Springs Community Advisory Committee, concern has been expressed about litter on our roadsides. Have you noticed how many new homes are being built? Large construction crews are coming to Springs with many workers; maybe occasionally, a bag or can gets thrown out of their truck window. Let's pitch in and keep our streets clear of refuse. Also, it was noted that there are more obtrusive roadside signage. Please take down contractor and other signs after work is completed.
Also, as noted in the last newsletter, dog poop and poop bags were being left on the roadside in front of homes. This is no longer the case, and we thank all dog owners and dog walkers for picking up after their animals.
EXCESSIVE NIGHT LIGHTING ??
Many of us want to look at the night skies.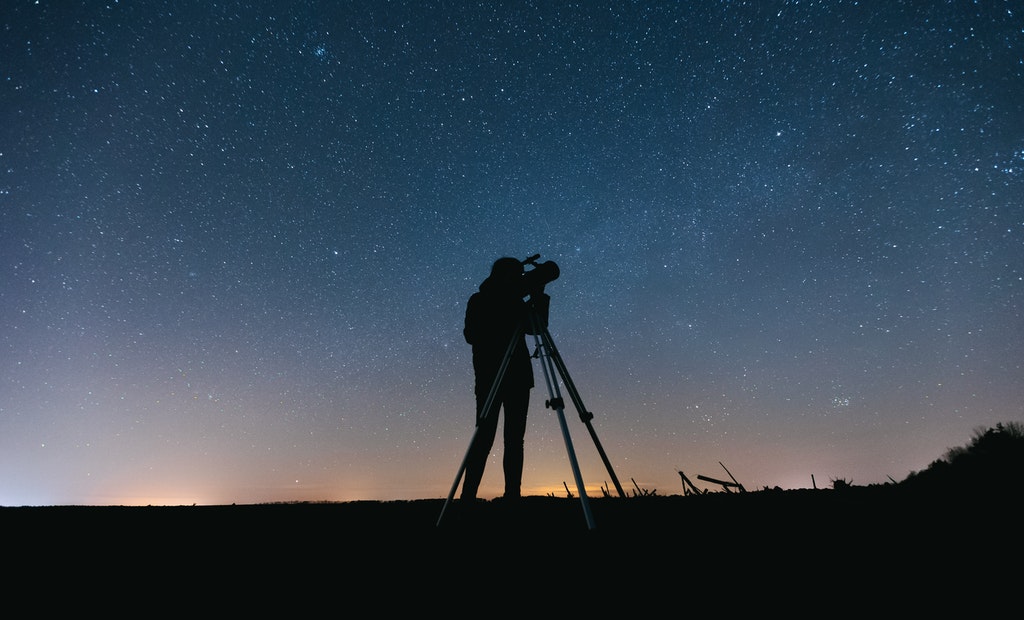 From our lighting specialist, Susan Harder:
Firstly it seems that there is no enforcement. When renovations are done, inspectors inspect construction, but lighting seems to be forgotten and, in many cases, is not brought up to code as it's supposed to be. I think unshielded lights are a big one. Often they are overly bright and spill across property lines. Bright spotlights set too sensitively can be on for hours into the night, triggered by wind, deer, etc. (There's one I see almost every night from my window.)
A recent stair rebuild on my block now has lights set into each step- all eight of them, two per step, in addition to two very bright lights on the house that reaches across the road. I'm in the process of updating the lighting code and would love to hear from people about issues they would like to have addressed. Swimming pool lights. These lights are magnified by the water and tend to be on late at night to late pool party areas. Noise from parties is greatly magnified over water, and people tend to talk loud in their pools (I'm sure there's a reason for this.)
Please reach out and give people my email to submit comments.
Susansharder@optonline.net
And from Chris Ganitch:
I see pathway lights that appear to be overly bright and overly numerous for their purpose. In addition, I think there are excessive lumens that are allowed- too bright for what is needed. Uplighting should be prohibited moving forward, in my opinion.
And finally, why update the code if it's not enforced? A corollary- Why must enforcement be complaint-driven? Hope this helps.
Or contact CB Board Advisor and SCAC member, Judy Freeman: judyehampton@gmail.com
Welcome New Home Owners - Fall 2021
Michael & Michelle Roberts                    
Amelia Redgrift                             
Deborah & Daniel Kassan   
Begonia & Ricardo Rovira  
Christine & Jeffrey Walters
Kleber Otavalo                               
Loretta Davis                                  
Samuel Goldsmith & Leila Jada   
John Morris & Ellen O'Rourke              
Eduardo Royes & Lauren MacIntosh       
William & Lauren Kim        
Verena Arnabal & Brian Hennessey      
Mathew Mc Guire               
Laura Perez
10 Homestead LLC               
Anthony & Anne Janiak                         
William Roesch                              
Charles Mc Millen                                   
Julia Watson                                            
Darya & Nima Isham                    
David Schiffer & Danielle Dibiasi     
Seamus MacConaonaigh & Helen Reilly 
A special promo code "clearwater" is available to residents of Clearwater Beach
Save $0.15 per gallon discount off of our regular great pricing for as long as they have the account with us.
For every new "clearwater" account, Propane Depot will contribute $50 to the CBPOA community fund. 
All residents will also be eligible to receive a referral reward program, which currently entitles them to $25-50 per client they refer whom signs up for our Smart Fill service. (Account credit or a VISA gift card, program subject to change)
www.propanedepot.com/clearwater  
631-400-7283