This is the time of year when we are so lucky to live where fresh vegetables abound. We should take advantage of this, as vegetables should be the most important part of our diet.
Also, there are so many delicious and interesting ways to prepare them. Try enticing folks to consume more vegetables to go with their meat and pasta dishes.
Head of Cauliflower
Bunch of Broccoli
Olive Oil
2 Cloves of Garlic crushed
Basil and your favorite herbs and/or spices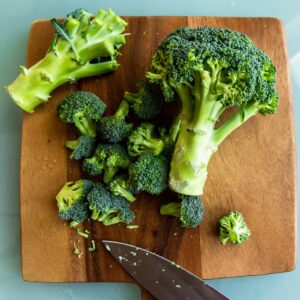 Rinse and clean the cauliflower and broccoli. (Remove and save stalks of both vegetables so you can make your own veggie water to use in making other dishes.)
Cut both into serving pieces and place these in your favorite roasting dish that you have covered with olive oil.
Add to the dish any herbs or spices that you favor.
Place the pan in the oven you have preheated to 375 degrees. How long you cook this dish depends on whether you like your vegetables: crunchy or soft. I like mine crunchy.
If you choose, you can add other veggies like pieces of carrots and/or peppers. Salt and pepper to taste. These veggies can be added to some cooked pasta, adding cheese like Pecorino Romano, if desired.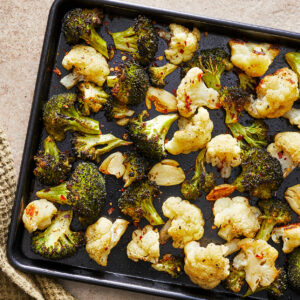 4 or 5 yellow and/or red Beets
Olive oil
Mint leaves
A couple of cloves of garlic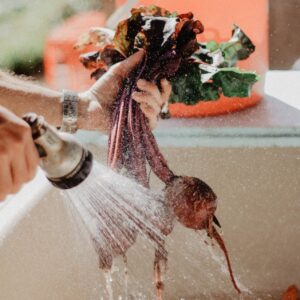 One vegetable that we should be preparing more is beets. If you are lucky and also get beet greens, they can be prepared as any side dish to go with a meat or fish dish, as a leafy green
Wash the beets and place them in a pot with enough water to cover them. Cook until they are soft enough for you to pierce the beets with a knife.
Remove them from the heat and allow to cool. Take off the outer skin and cut the part off each beet that is the remnant of the stem.
Cut the beets into pieces and place in a baking dish with olive oil and a clove or two of garlic. Put the pan into he oven at 375 degrees for enough time; they will need to sofen fully. Toss the fully cooked beets with a bit more olive oil and mint leaves. This dish can be served hot or cold as a salad. Beets are very healthy, besides being delicious. Vegetable dishes are considered to be superfoods and go well with any meat or fish dish.