Whole Wheat Eggplant Lasagna
¾ lb. of ricotta cheese
1 teaspoon of dried mint
¼ teaspoon of cinnamon
1 egg
2-3 cups of a good quality marinara sauce
9 lasagna noodle
1 male eggplant (this means the end of the eggplant does not dimple in)
¾ cup grated mozzarella cheese
Grated cheese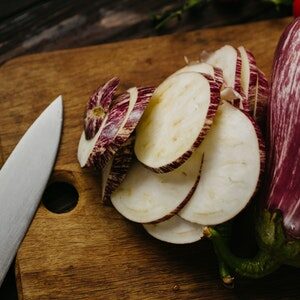 Thinly slice the eggplant and place the slices on a plate, salting each layer. Cover it with a dish and put a weight on the eggplant. Continue drawing the bitter liquid from the eggplant continue for about an hour.
Remove any extra liquid from the slices of eggplant by squeezing each slice between your hands and place the slices on a large baking sheet. Bake in the oven at 350 degrees for 15-20 minutes or until the soft.
Put a large pot of water on the stove to boil. Put the noodles into the boiling water and gently stir with a wooden spoon as they begin to soften. Cook the noodles until they are a shade less than al dente.
Mix the ricotta, egg, mint, and cinnamon in a bowl.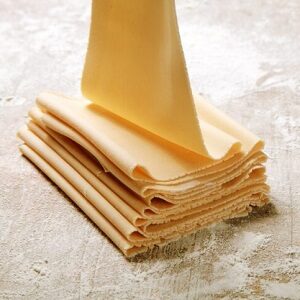 Cover the bottom of an appropriate pan with marinara sauce, and drain the cooked noodles.  Place three noodles on top of the sauce, top with the ricotta mixture and the eggplant slices.  Ladle some of the sauce on top and sprinkle with the grated cheese.  Continue this procedure until you have used up the noodles.  Cover the top layer with mozzarella cheese.  Cover the pan with foil and cook for approximately 25 minutes.