12 firm ripe beefsteak tomatoes
Half to three quarters of  cup of extra virgin olive oil
A handful of fresh basil leaves
1 loaf of crusty day old bread
Two cloves of garlic finely chopped
Salt and Pepper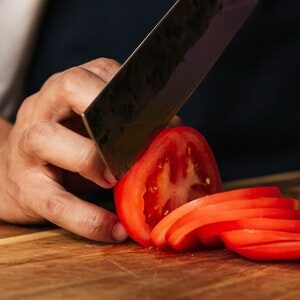 Drop tomatoes 3 tomatoes at a time into boiling water for a minute or two, than plunge into cold water. Remove seeds and skins.
 Coarsely chop and place in a glass or ceramic bowl (do not use a metal or plastic).  
Cut the bread into cubes to equal the amount of tomatoes.  Add the rest of the ingredients and mix. 
Cover the bowl and let it stand for at least six hours, or refrigerate overnight. Stir the mixture occasionally. 
Warm gently so that the garlic cooks and the bread breaks down. Ladle into serving bowl and drizzle with olive oil.