Rabbit is one of the tastiest white-fleshed meats readily available (and it is often neglected by Americans). This is one of the best recipes  in cooking it. This recipe works perfectly with dark meat (chicken meat) as well. Rabbit recipes taste better when the parts are cut smaller than most butchers like to prepare it. You might have to butcher it yourself or properly instruct a butcher.
Rabbit-Onions-Pancetta Recipe
 1 fresh rabbit
1 large onion
1 spring of rosemary 
4 fresh sage leaves
2 tbs o tomato paste
1 cup of decent quality wine
 One quarter of a cup of olive oil
2 thin slices of pancetta
3 bay leaves
4 whole cloves
Salt and Pepper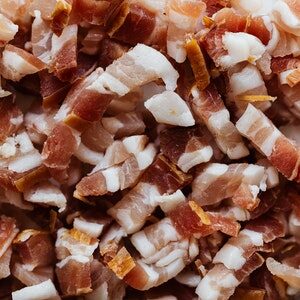 Into a large Dutch oven put pancetta (minced), onion (thinly sliced), olive oil, herbs, and cloves and sauté over a moderately high heat, stirring frequently until  the onions wilt.  
Season the rabbit (or chicken) pieces with salt and pepper to taste, and lightly brow the meat on all sides.  Add the tomato paste to the mixture to coat the pieces of meat.
Add the wine (the wine should be good enough for you to drink), scrapping the bottom of the pan to amalgamate those tasty bits into your sauce.
Add the stock and simmer, only slightly covered as you want some evaporation to occur. Cook for about forty minutes until the sauce is reduced and the rabbit is done.
If the sauce appears a little too watery, remove the meat, set aside, and continue to cook until it thickens.   I like to serve this dish with polenta or pappadella noodles.