Though the calendar says it is fall, the nip in the air heralds the coming winter.   To warm our bodies from the inside out, try making a big pot of the soup.  This recipe combines many of the ingredients which are as good for our bodies as they are delicious.
Looking at this recipe, it may seem like a great deal of work, but I have timed the preparation and am usually able to complete it in about 35 minutes.  When the cooking is done you can eat hearty bowls of soup for a week, if stored in the frig properly.  It beats turning up the thermostat and is a lot cheaper.
1 ½ cup of chopped leek

2 to 3 Parsnips

3 cloves of crushed garlic

3 stalk of celery with leaves

1 tbs. of olive oil

3 large carrots

A bulb of fennel

1 Red pepper

2 Zucchinis

A cup of cooked acorn squash
Small can of tomatoes

1 ½  cup of cooked beans of choice

4 to 5 cups of stock 

5 or 6 leaves of a dark leafy green

Herbs (parsley, thyme, rosemary, bay leaves fresh if available)

¼ teaspoon oregano

¼ teaspoon of cumin

1 cup of barley

Salt and pepper to taste
How To Make A Healthy Vegetable Soup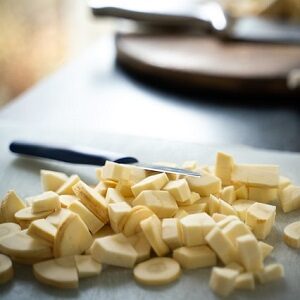 In a large pot put leeks, garlic, and olive oil.  
Cook, stirring occasionally until leeks are wilted.  
Add chopped parsnips and 2 cups of stock, cook until vegetables are soft.  
Remove the pot from source of heat till the contents are cool enough to work.   
Using your favorite whirring device, whir the vegetable mixture until you have created a thick base. 
Return pot to heat source and continue to add chopped vegetables: celery, carrots, fennel, red pepper, zucchini, tomatoes, and beans.  
Stir in the acorn squash (which will sweeten the soup) and the rest of the stock.  
Cut the leafy green leaves in to small pieces. (Kale and beet greens are the most nutritious.)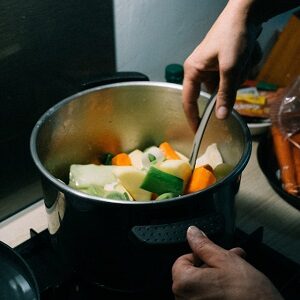 Depending on the size of your vegetables you may need more stock (water is also acceptable).  Obviously, if you have fresh herbs use them instead of the dried ones, though dried herbs are, of course, fine.  
Oregano is the herb that has the highest in antioxidants, so feel free to add more if you like.  You may also substitute brown rice, small whole wheat pastas like couscous, or the Italian fregola.  Cook soup until the vegetables are tender about an hour.