With the longer days and warm sun, the seeds we put in the ground in early spring have germinated and are growing.  Basil flourishes, and what better dish to prepare than one of my favorite and easiest recipes – Genovese Pesto.  This dish also uses one of our early vegetables, asparagus. 
Linguine With Genovese Pesto
25 Basil leaves

2 cloves of garlic

5 Tbsp. extra virgin Olive Oil       

1/3 cup of freshly grated Romano cheese

1/3 cup freshly grated Parmesan cheese
Pinch of salt

12 ounces of linguine

1 to 2 small potatoes peeled and cut into sticks

1/3 cup asparagus (green beans also work nicely)
How To Make Linguine With Genovese Pesto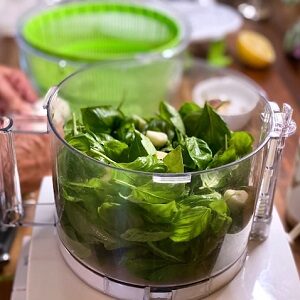 Put basil, garlic, olive oil, and salt into food processor and process at medium speed for a short time. 
Add both cheeses and process briefly. 
Cook the pasta, potato, and asparagus together until done. 
Toss together while pasta is still warm.
Rabbit, a lean meat which has been neglected by Americans and is a favorite in Europe, can be purchased and prepared in the following savory dish.