Glorious summer is over.  The chill of fall is in the air.  It's time for dishes that warm the house as well as the body.  Here is one of my favorites that incorporate some of the offerings of the end of the season. This turkey dish is my own concoction and a crowd pleaser.
Turkey Thighs With Brown Rice
2 Turkey thighs

½ Cup of brown rice

10 Cloves of garlic

½ Cup of wild rice

20 Grapes halved                         
Broth of your choice to cook rice

15 Sliced mushrooms

Toasted sesame seed oil

¼ cup of soy sauce (Bragg may be substituted for low salt)
How To Make Turkey Thighs With Brown Rice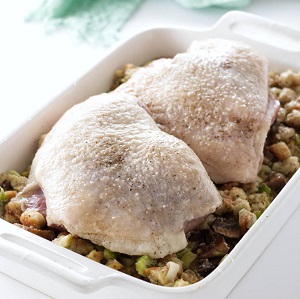 Rinse thighs and pat dry. 
Stuff garlic cloves under the skin of the turkey and place thighs in a large enough pan to hold mushrooms and grapes. 
Place extra cloves around the turkey.   
Soy sauce and sesame seed oil are poured onto the thighs and surround the meat with the grapes and mushrooms. 
Cook thighs skin side down in a 350-degree oven. 
Cook the rice in the broth.  
When meat is cooked, and the length of time will depend on the size of the thighs, turn thighs over to brown skin. 
Smash cloves of garlic into the juices collecting in the bottom of the pan scraping up the caramelized bits from pan. 
Remove meat and mix rice into the sauce with grapes and mushrooms. 
Slice meat and place on top of the rice mixture.  Obviously, this same method can be used with chicken or Cornish game hens.