1 whole chicken, preferably organic

A barbeque with a cover

Powdered ginger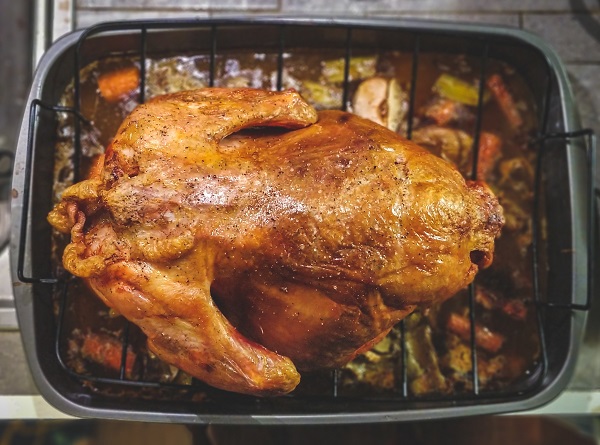 Since you are smoking the chicken you will need to create a drip pan to go under the chicken.  Place a piece of heavy duty aluminum foil in the center of the bottom grate.  Fashion sides and heap the charcoal around the foil. 
 Prepare the chicken by rinsing under running water and patting dry. 
Bathe the chicken in soy sauce.  If salt is a problem, Bragg is a safe alternative. 
Rub the skin of the chicken with plenty of garlic powder and ginger. 
When the coals are ready, place the chicken on the grill breast side down and close the cover.  
I usually pour the liquid left in the dish over the chicken. 
As the breast begins to brown, turn the chicken, breast side up.  Chicken is done when the skin is golden brown crispy. 
This will take as long as the size of your chicken and fire.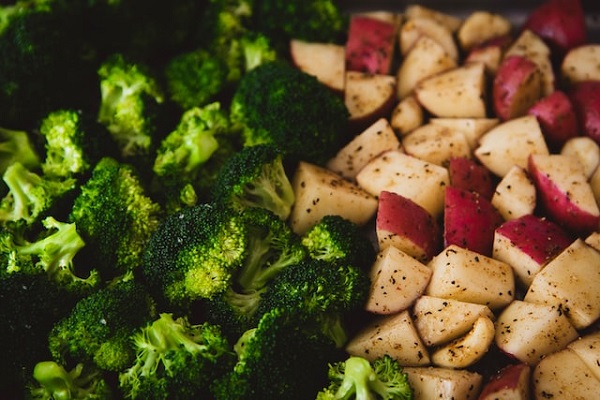 Try roasting a variety of vegetables: eggplant, Brussels sprouts, zucchini (yellow and green), tomatoes, peppers, asparagus, and even carrots. 
Prepare the vegetables by cutting them in even pieces. 
Oil a baking pan and season the vegetables with a variety of herb and spices, i.e. cinnamon, basil, onion and garlic powder, thyme, etc.  
You can even add bread crumb and/or grated cheese. 
Finally, splash a bit more olive oil on the vegetables and put in hot oven about 375 degrees. 
Watch the vegetables until you can figure how long it takes for each kind of vegetable to cook. 
Sometimes I roast two different vegetables at a time and the hot oven warms the house at the same time.  Experiment!